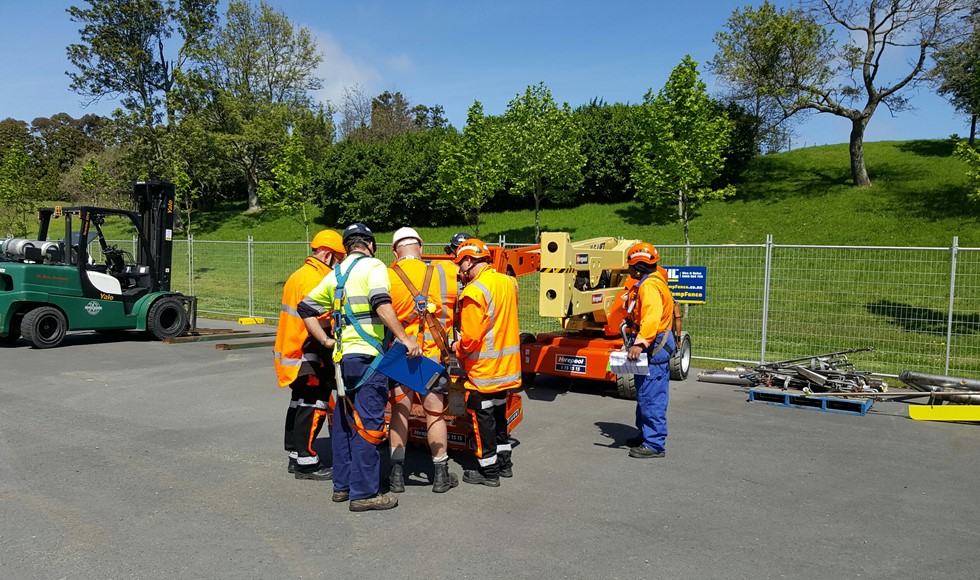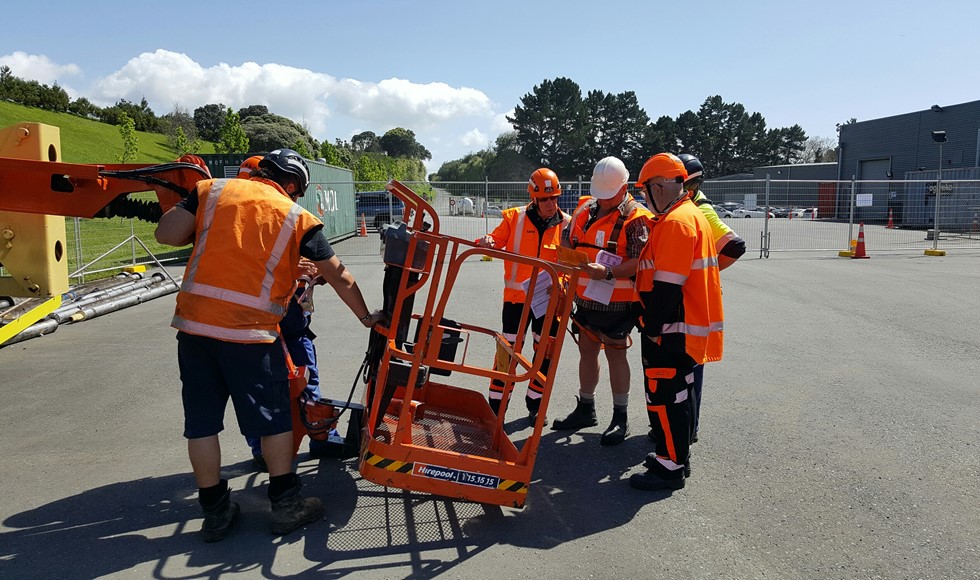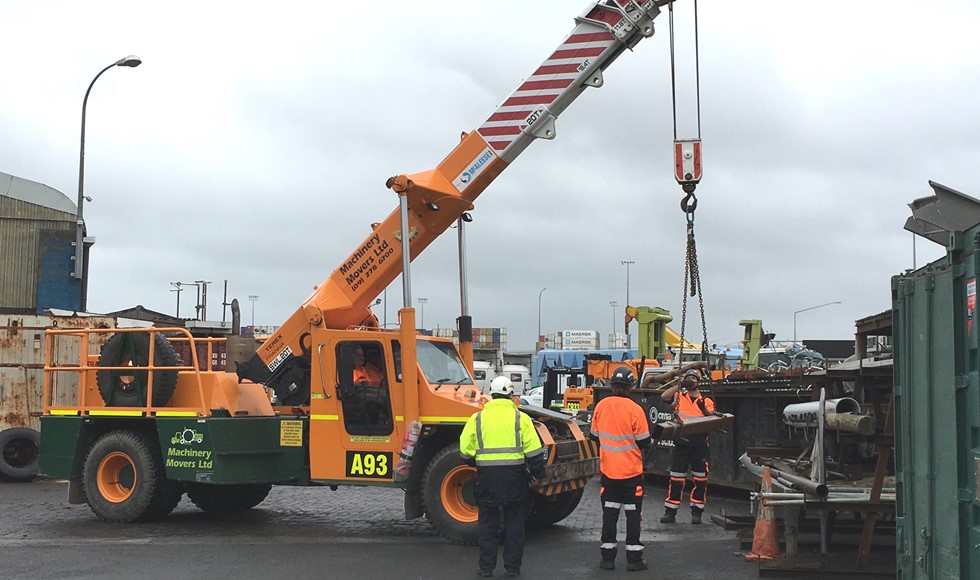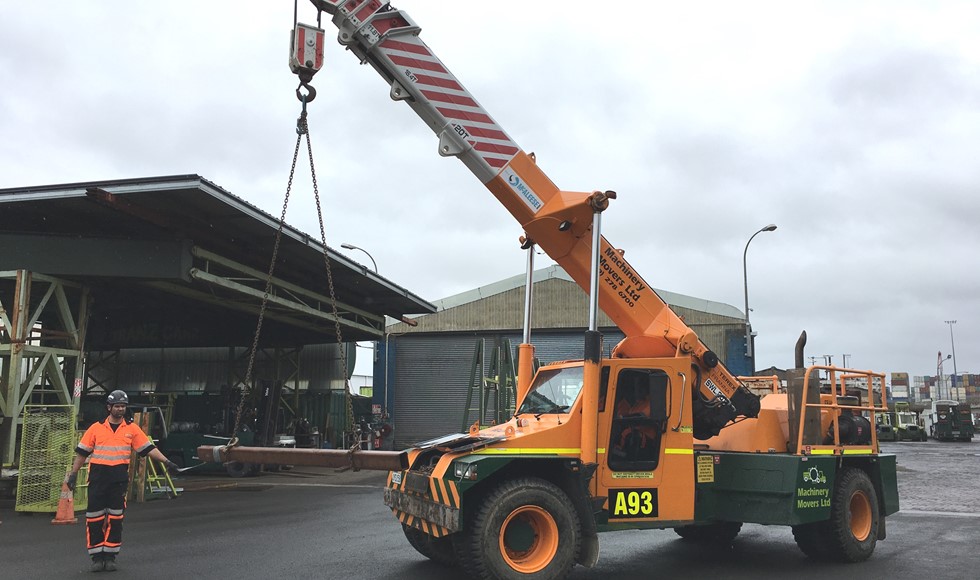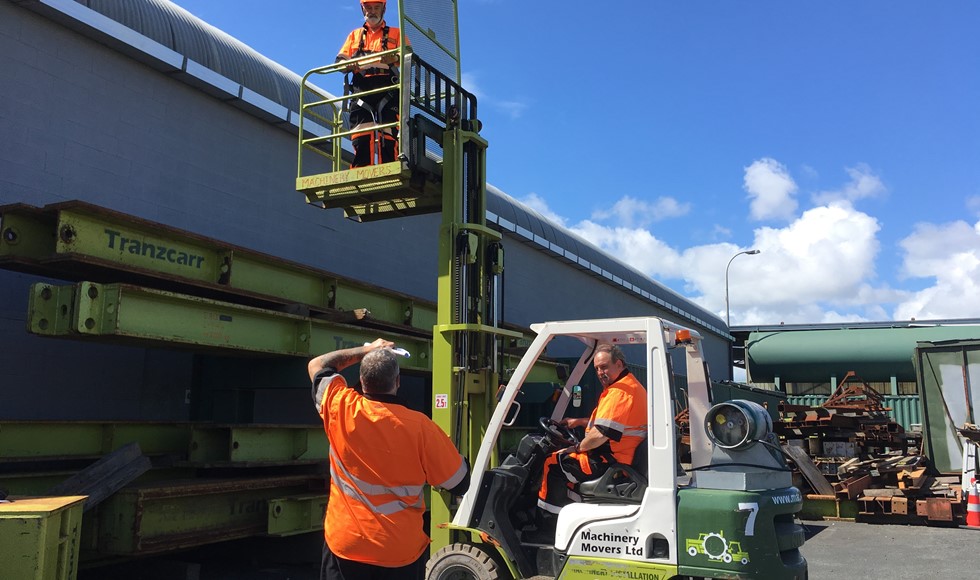 TRAINING
Training for all 4 divisions of the Specialised Lifting and Transport Group Ltd is managed by the Group Manager – People and Performance, Brian Parker.  Brian is an NZQA approved Industrial Assessor accredited to the Motor Industry Training Organisation (MITO), Connexis ITO, Competenz ITO, and Skills NZ.  Brian is also a NZTA Approved Course Provider for Driver Licences and Endorsements. 
Brian provides training within the organisation for a wide range of NZQA Unit Standards and manages the training by other training organisations for subjects outside his accreditation range.  He also utilises subject matter experts within the organisation to assist in training, and to provide coaching and mentoring for junior staff
The following is a brief description of the training undertaken by SLT Group:
1          BESS
The SLT Group offers training and assessment for Unit Standard 23436 "Demonstrate knowledge of the self-supervision requirements for overweight vehicles crossing bridges" for both its own staff and for the wider Transport community.
This is a special qualification required by NZTA for the drivers of overweight vehicles.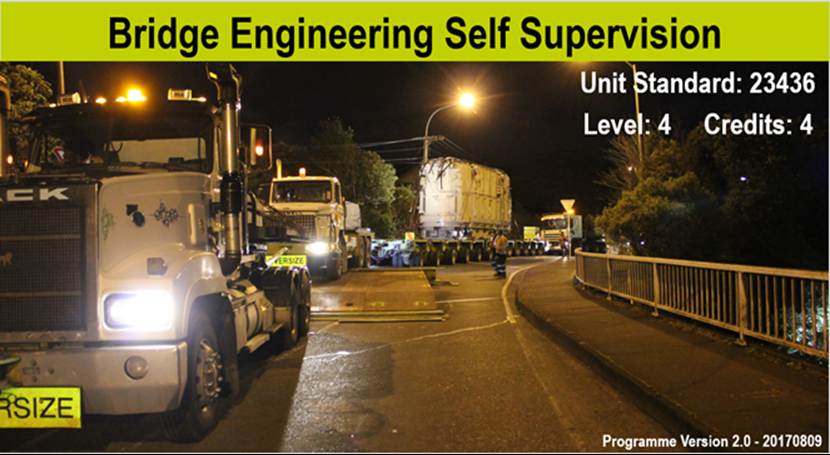 2          Forklift
Machinery Movers trains all its own staff in advanced forklift skills using machines from 2.5 Tonnes to 16 Tonnes
This course covers the following unit standards
10851 Operate a powered industrial lift truck (forklift) V4
10852 Operate a powered industrial lift truck (forklift) fitted with attachments V4
18409 Use a forklift mounted safety platform in the workplace V5
18496 Demonstrate knowledge and skills for driving a forklift on a road for endorsement F (forklifts) V2
In addition to the unit standards, we also cover loading, securing, transporting, and unloading forklifts on transporters.
3          Telehandler
Machinery Movers operates a JLG 4013PS Telehandler and trains those who need to use it in Unit Standard 23637 Operate a telehandler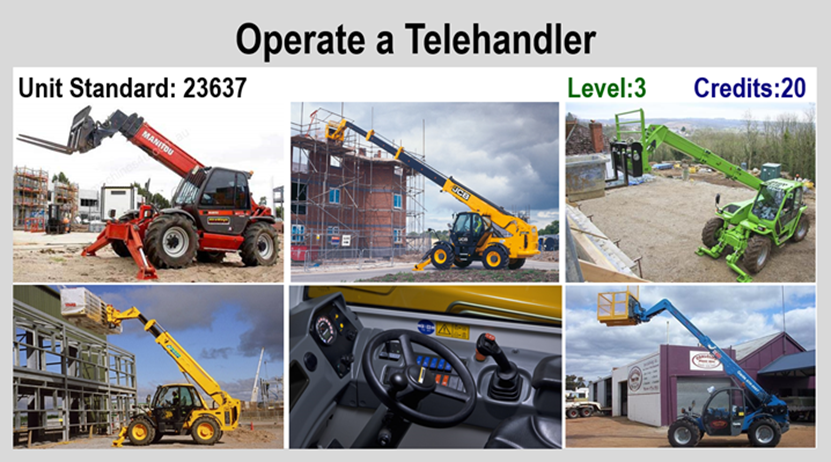 4          Mobile Cranes
Machinery Movers operates a fleet of Terex Franna AT16, AT20 and MAC25 mobile cranes.  We provide training for our staff in the following unit standards:
US 3789 Sling regular loads and communicate during crane operations
US 3801 Prepare and sling complex loads for crane operations
US 24510 Review a lift plan, and lift loads using a crane working in tandem during crane operations
US 24511 Configure a non-slewing articulated crane, and lift and place regular loads
US 16701, 16702, 16703, WRT Endorsements
These cranes are driven on the road under Overweight Permits and require a BESS licence, Class 4 Driver Licence, and a Special Type Vehicle (W) Endorsement.  We provide training in various Standard Operating Procedures relating to compliance with the NZTA and Auckland Transport Area Overweight Permits, and the KiwiRail crossing requirements.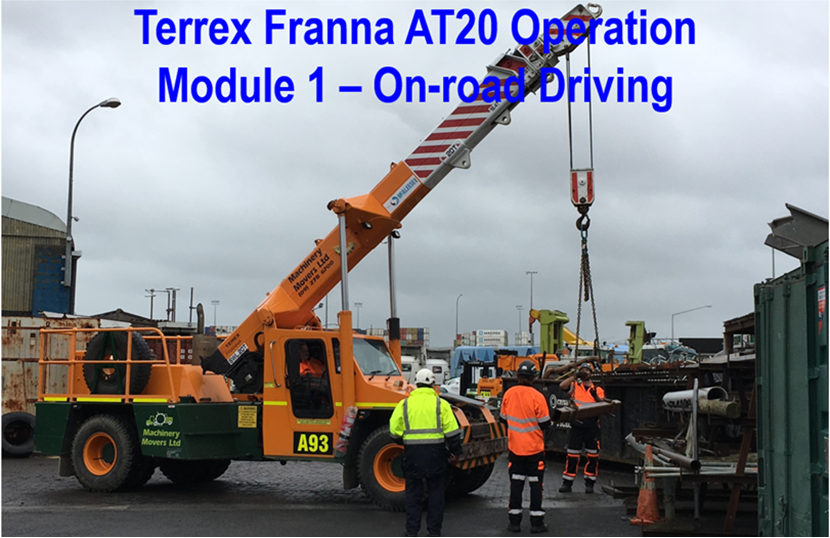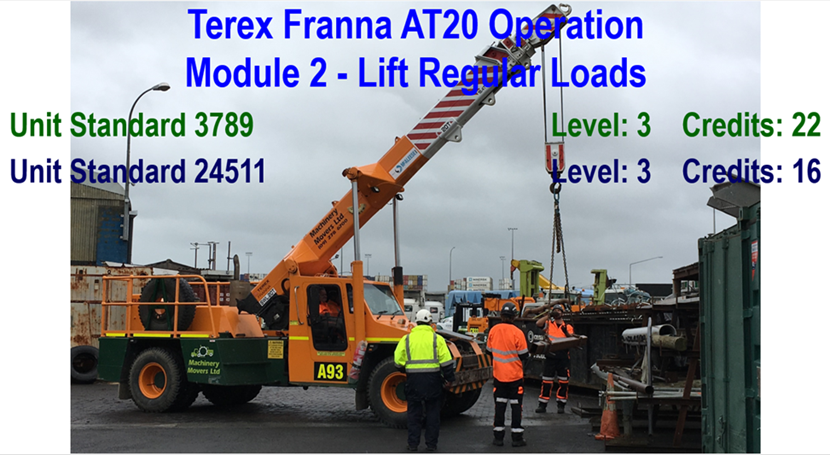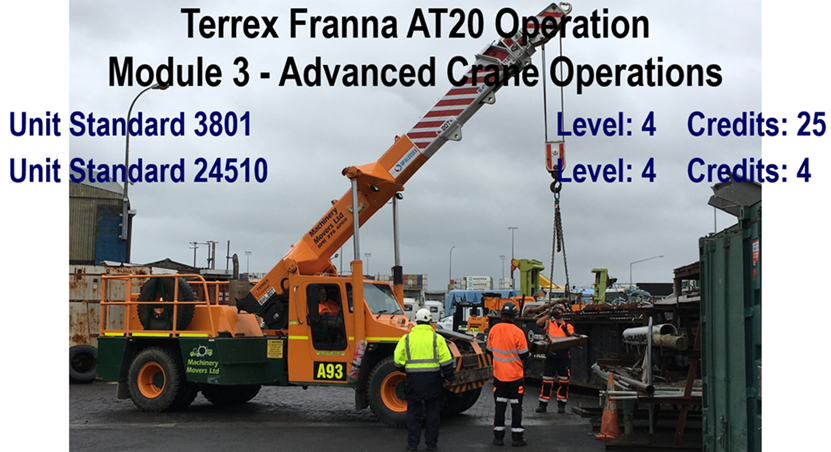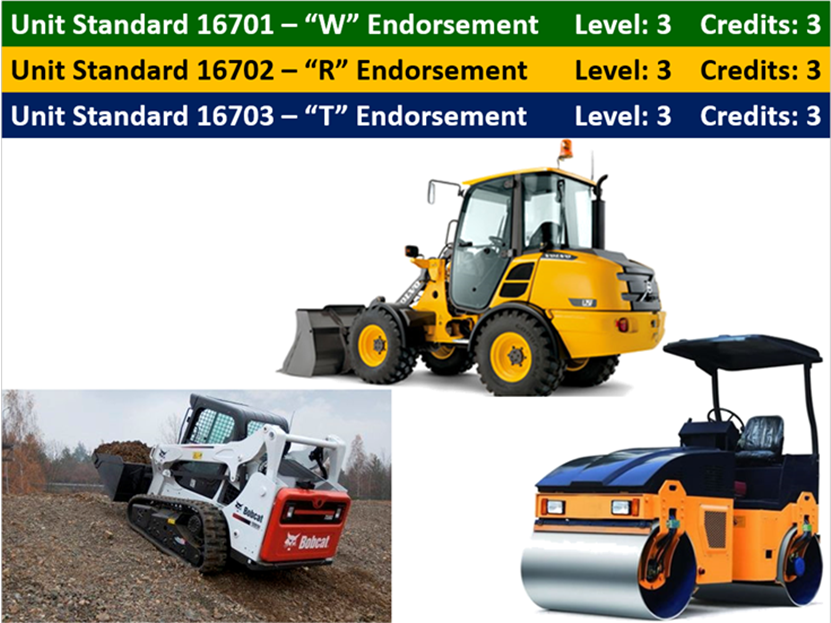 We also have 2 Palfinger Truck Mounted Cranes for smaller lifting jobs.  The operators are qualified with training and assessment in:
US 16617 Use a truck loader crane to lift and place loads
5          Driver Licencing
SLT Group provides driver licence and endorsement training as an integral part of its Employee Development Plan.
Trainee staff are encouraged and assisted through the graduated licencing system to gain their Full Class 1 driver licence.
Training and Assessment in the heavy vehicle licence Classes 2 to 5, and the D, F, R, T, W, Endorsements are provided in-house.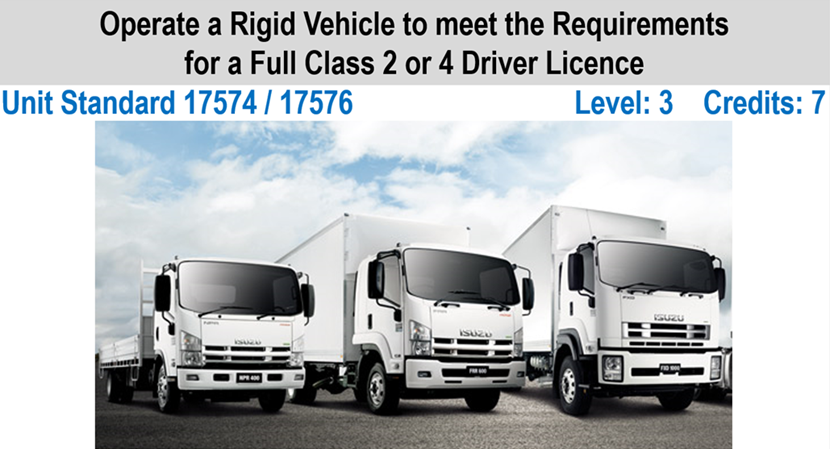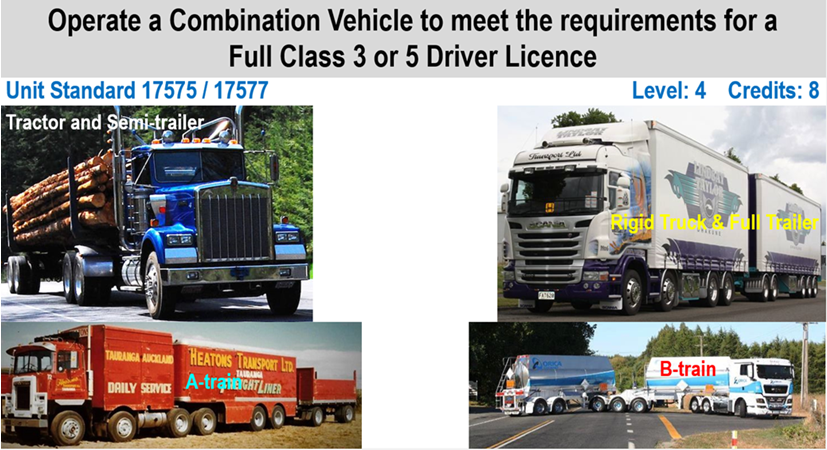 6          Working at Heights
The Machinery Riggers often work at height and are all qualified through external training in:
US 15757 Use, install and disestablish temporary proprietary height safety systems when working at height
US 17600 Explain safe work practices for working at heights
US 19359 Inspect and maintain height safety equipment
US 23229 Use safety harness system when working at height
US 25045 Employ height safety equipment in the workplace
7          Health and Safety Training
All three divisions of the SLT Group operate in a high-risk environment, so Health and Safety training is critical to keeping our staff safe.  We undertake external Health and Safety related training in the following areas:
General Health and Safety:
US 497 Demonstrate knowledge of workplace health and safety requirements
US 17593 Apply safe work practices in the workplace
US 17595 Explain health and safety management requirements for contractors working on site
US 17596 Demonstrate knowledge of safety observer responsibilities in the workplace
US 17602 Apply hazard identification and risk assessment procedures in the workplace
US 18408 Demonstrate knowledge of fire and emergency warden duties in the workplace
US 19522 Undertake job safety analysis
US 20198 Identify the roles and responsibilities of the health and safety representative in the workplace
US 25043 Lockout and reinstate machinery in the workplace
US 29315 Describe the role and functions of the Health and Safety Representative in a New Zealand workplace
Fire Safety:
US 3271 Suppress fire with hand extinguishers and fixed hose reels
US 4647 Explain principles of fire science
First Aid:
US 6400 Manage first aid in an emergency situation
US 6401 Provide first aid
US 6402 Provide basic life support
Permit to Work:
US 17588 Apply for, accept, and carry out work according to a work permit in the workplace
US 17589 Monitor, control and audit work permit systems
US 17590 Issue worksite specific work permits
Heavy Haulage:
US 1768 Pilot an overweight load and an overdimension load as a Class 2 certified pilot
US 23436 Demonstrate knowledge of the self-supervision requirements for overweight vehicles crossing bridges
US 23887 Transport by road piloted, overweight, category 3 overdimension loads
US 23892 Pilot an overweight load and an overdimension load as a Class 1 certified pilot
General Driving:
US 1734 Demonstrate knowledge of stress, health and fatigue for driving
US 1735 Demonstrate knowledge of the New Zealand road transport industry
US 1738 Drive a heavy vehicle in an off-road environment
US 1753 Load and unload a general freight vehicle
US 3464 Describe human risk factors in terms of a self-management strategy for a driver
US 3466 Apply risk reduction techniques and strategies while driving
US 15158 Carry out pre-drive vehicle checks on a heavy motor vehicle, start it up, and shut it down
US 15166 Operate a manual constant mesh non-synchromesh transmission
US 17677 Demonstrate knowledge of safe night driving
US 18079 Demonstrate knowledge of heavy combination vehicle dynamics and handling for safe driving
US 22150 Apply knowledge of documentation required for the transportation of goods by road
US 22152 Demonstrate driver responses to spillage, leakage, or loss of load when transporting goods by road
US 24089 Demonstrate knowledge of fatigue management, work time, and driver logbook requirements
US 25717 Demonstrate knowledge of, and apply, effective decision-making processes for enhanced driving safety
US 26776 Demonstrate advanced driving techniques and a professional attitude as a heavy combination vehicle driver
Standard Operating Procedures:
There are currently 83 SOP's covering various aspects of our work, with more under development.  Training and assessment is provided for each of these as they are implemented.